In recent years, the issue of environmental protection has become of primary importance in order to preserve the planet for future generations. With this in mind, the use of disposable tableware has assumed considerable importance, which create a considerable amount of waste, not to mention the cost due to their purchase in relation to use. Thus was born the desire to lend a hand to the environment with the creation of reusable plastic glasses vs disposable glasses. In fact, making a comparison immediately catches the eye, that disposable glasses despite the practicality of purchase and use they are actually uneconomical, anti-ecological and polluting. Our company specializes in the supply of rigid plastic glasses and also ecological ones intended for many uses. We also recommend them for outdoor tastings where the plastic glasses are in line with safety regulations. Shapes, colors and design guarantee the same reliability, manageability, transparency and resistance of glass glasses.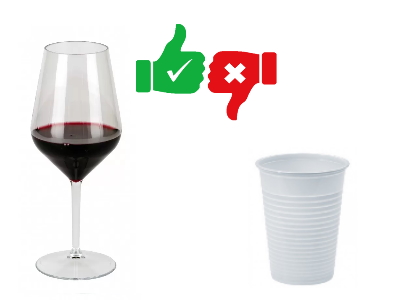 Reusable plastic glasses: characteristics
The reusable plastic wine glasses are made using an innovative technology that makes them resistant to infinite uses. Their purchase could be more expensive than the disposable ones but in reality it is amortized by a prolonged use that allows over 300 washes. Thus, sanitation is ensured as well as sterilization. The transparency and brilliance make them resemble in all respects glass glasses that could not however be used in outdoor tastings as they represent a potential danger for possible breakages. Hard plastic glasses have the following characteristics:
- they are unbreakable
- dishwasher safe at high temperatures
- transparency that allows a perfect visual examination of the liquid contained
- do not affect its flavor
- different forms and capacities according to the use for which they are intended
- reduced environmental impact as the quantity of waste destined for disposal is enormously reduced
 

Disposable glasses
The cost of disposable glasses can seem negligible when you consider the single plastic unit. If we multiply by the number of glasses we consume during the day then the expense becomes significant. The choice of their use could give practical and hygienic reasons. In fact, they are disposable, lightweight and easy to handle. In fact, there is an occult world behind their use when you think of the plastic island floating in the Pacific Ocean. By accumulating so much plastic it is not possible to dispose of it either quickly or at low cost. The environment is already suffering compared to 50 years ago when the use of disposable glasses was practically unknown.
Reusable plastic glasses vs disposable glasses
In conclusion, it can only be said that the use of reusable plastic glasses have the enormous advantage of being functional and resistant. Although water and detergent are required for their washing, it is known that the waste of these two elements is spread over the number of glasses that can be washed by hand or in the dishwasher. The expense for their purchase is, in the same way, amortized by the number of times they are used. Disposable plastic glasses have the drawback of not being strong enough to hold both hot and cold drinks. Liquids such as wine and beer do not find the taste context to be tasted as they do not have the same technical characteristics as reusable plastic glasses. During the tastings there should be plastic containers available which in a short time would be filled with the consequent need to empty them. An extra job, therefore, also for the service staff who, in addition to mixing the beverage, should provide for the removal of waste. The reusable plastic glasses, on the other hand, should be placed in baskets to be inserted in the dishwasher in the same way as those made of glass.
Reusable plastic glasses: elegance and refinement
Many wonder how reusable plastic glasses can be elegant and refined to take place in the context of a themed tasting. In fact, technology gives true tritan plastic masterpieces that are in all respects similar to crystal glasses. The shapes and sizes respond perfectly to the request of customers who like to use each glass for each wine. Champagne, red and white will each have their own reusable plastic glass that allows the perfect visual, olfactory and gustatory tasting with a touch of elegance and refinement. To be able to touch all this firsthand, it is possible to participate in sector fairs, where winemakers, sommeliers, professionals and wine lovers will satisfy their needs. We have a vast sample and catalog dedicated to those who make drinking their daily mission.