In recent years, the world of food and wine has become very popular. An increasing number of enthusiasts are approaching the food and wine sector thanks to the transmission of documentaries, columns and TV programs focused on this theme.

The desire to discover and know the secrets of wine is spreading at an unprecedented speed.
For this reason, the numerous associations that deal with the dissemination of wine culture meet the professionals of the sector, individuals, restaurateurs and winemakers by organizing special courses.
Wine tasting courses have become a means of educating oneself or to deepen one's knowledge about the nectar of the gods. They are the link between the manufacturing companies and the final consumer.

The usefulness of the courses is to give more information by creating matching and conscious consumption. We have all the necessary material to organize courses of approach to wine. Tasting glasses in practical and sommelier carrying cases are essential to be equipped for the course.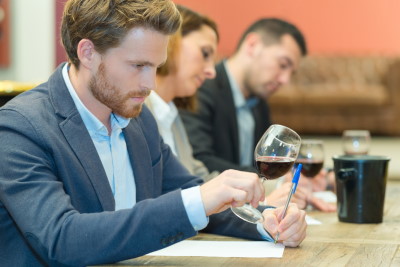 How to organize a tasting course: preliminary notes
The wine tasting course is a valid tool to train new wine lovers. At one time, restaurant patrons asked for white or red wine. More specifically, if the menu was based on fish they asked for white, on the contrary, if it was meat they preferred red. In fact, it was almost a cliché that with fish there was white and meat with red.
Over time, it has been realized that the combinations are the result of a precise tasting technique that can only be learned by attending a wine tasting course. The reason for this statement is quite simple: there is not only the distinction between white and red.
In reality, there are an infinite number of wines that with their organoleptic characteristics are suitable for one or the other menu. Therefore, many wonder how a wine tasting course is organized.
Organizing a wine tasting course means transmitting this. Meanwhile, you need to understand the level you want to reach. The approach to wine course, for example, can include about 10 lessons during which we talk in general terms about wine and its possible combinations.
On the contrary, a wine tasting course that issues the professional qualification can last for years and run through well-defined levels. It all depends on who organizes the course.
The common element is the passion with which the love for this drink is transmitted. The search for its secrets is the result of visual, olfactory and organoleptic analysis through tasting glasses that help to seek harmony and balance. Experience will do the rest.
How to organize a wine tasting course: approach or qualification course
 

The approach to wine course is organized for those who want to understand more about this multi-faceted drink.
Those who are preparing to organize a wine tasting course must, first of all, set themselves a goal through stages or more precisely, meetings. Participants must be provided with the necessary material: tasting glasses in glass cases and handouts to deepen what was said during the meeting. T
he meetings, in general, are structured as follows:

 

- Vine and wine: we talk about the vine and the grape

- Vinification: vinification systems for white, red and rosé

- Refinement and Aging

- Notions of wine legislation

- Notes on regional viticulture

- Wine tasting

 

The structured wine tasting course allows to obtain important notions to begin to understand this wonderful world. In a few meetings, you can reach a fair level of knowledge.

The professionally qualified wine tasting course is more structured and also offers job opportunities. Obviously, the costs will be higher and the commitment more onerous. Through this course he reaches an excellent level of knowledge that he can also pass on to others.

The association that organizes this type of course provides tasting glasses, glass cases and books for teaching ranging from origins to combinations, passing through regional enography:

1st Year: vinification methods, service, grape varieties

II Year: National and International Enography

III Year: Food and wine pairing with notions of food products.

Wine tasting courses: master
Masters are advanced level wine tasting courses that allow participants to obtain specific qualifications in relation to specific products. An example of a master is the one with the French Wines theme. In this case, we will talk about oenology in France with the relative legislation on the subject.
Participants will bring the tasting glasses in their glass carrying cases and the course organizer will provide the didactic material to deepen their knowledge. Masters can have increasingly complex themes since wine is a complex matter.
How to organize a wine tasting course at fairs
The sector fairs are a valid opportunity to organize courses on wine. To understand how and how a wine tasting course is organized at Vinitaly, for example, it is necessary to put a focal point around which to rotate the lesson. Generally, it is the companies that choose 3 or more flagship wines and invite customers to taste them.